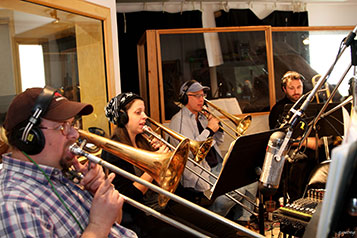 Musicians:
""Band of Bones is absolutely out of their tree! I am completely blown away by the overall excellence of this ensemble!"
---Bill Watrous


"What fantastic arrangements! This recording makes the listener appreciate the beauty and majesty of the sound of the trombone in an ensemble setting. Check it out!"
---Steve Turre
12-time Downbeat Critic's Poll Winner
Saturday Night Live Band

"I love the CD. It's smokin'!"
---Wycliffe Gordon
Lincoln Center Jazz Orchestra

"Man, the music is fantastic! It really reminds me of JJ & Kai and Tutti's Trombones that I adored as a kid. Excellent writing!"
---Ray Anderson
6-time Downbeat Critic's Poll Winner

"What's old is new again, especially when it's better than the original! Your band sounds great. Wow, great blowing!"
---Matt Finders
Jay Leno Tonight Show Band


"Band of Bones is a swinging, sliding, sliphorn celebration...a must listen for anyone interested in the past, present, and future of jazz trombone."
---Conrad Herwig
Eddie Palmieri Orchestra

"You guys sure did your homework! It sounds great. All the guys really play wonderfully!"
---Clarence Banks
Count Basie Orchestra

"One of the most refreshing recordings I've heard in a long time!"
---Dick Griffin
Rahsaan Roland Kirk Orchestra

"I love this CD. The charts and performances are brilliant throughout. This is a wonderfully swinging and exciting CD!"
---Ed Palermo
Ed Palermo Orchestra (Zappa Big Band)
Press
"Every fourth blue moon somebody creates a sound that demands attention. Such is the case with Dave Chamberlain's 'Band of Bones', a debut CD featuring 14 wonderfully inventive and swinging songs. With eight trombones and a sensational rhythm section, 'Band of Bones' is both percussive, rhythmic and just plain fun!"
--Doug McIntyre, Host Red Eye Radio 77 WABC New York City
***1/2 - Downbeat
Click here to read the review!

"The best big band you've never heard about! ...Band
of Bones is analagous to a no name team that wins a championship. They
are clearly winners!" - Hot House
Click here to read the review!

"The trombone is alive and well!" - Jazz Inside
Click here to read the review!
"Band of Bones is
unique...self-assured playing...supremely polished."
-NYC Jazz Record
Click here to read the review!
"Band of Bones is a trombone lover's dream...a rich, diverse program of sonic delights."
-Bob Bernotas,
host of "Just Jazz" WNTI 91.9 FM
"Thank you! Your band was terrific, and the audience loved you - Hope you'll come back. Continued success!"
- Ronny Whyte, pianist/singer, Curator Midtown Jazz at Midday
St. Peter's Church
"Hot jazz trombone octet with rhythm. Swings way hard, replete with
excellent soloing. The sound is like the classic albums of old. Think
Jay & Kai octet, or even Urbie Green's 21 trombones, only in full
digital."
- Hickeys.com
"With eight mighty trombones, Band of Bones doesn't skimp on brassy
power."
-The New Yorker
"I was there, and you guys all killed last night! Thanks for a great concert!"
- Bob Bernotas host of JUST JAZZ
"I just wanted to thank you so much for the beautiful tribute to J.J. last night at the Baha'i Center. The playing and the arrangements were exquisite. It was a fitting belated tribute to the master!"
- Laurence Donohue-Greene, NYC Jazz Record
"Thanks for making such a hip record!"
Gary Walker, Program Director, WBGO 88.3FM
"With every phrase, solo, and arrangement, David Chamberlain and the Band of Bones deliver the highest commitment and dedication to trombone musical excellence. One of my favorite trombone ensembles!"
Clifton Anderson, trombonist and musical director for Sonny Rollins
Band of Bones' "Musical contributions filled the sanctuary like never before, and helped to make the program one of the best we have ever had!" - Jo Jackson, co-ordinator,Flatted Fifth Jazz Vespers in Newark, NJ
Band of Bones - "Mr. Johnson"