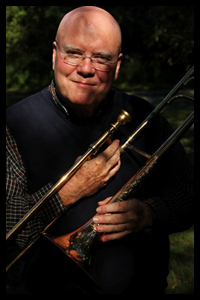 Raised in Buffalo, Dave Chamberlain began playing trombone at the age of ten, inspired by watching his four cousins playing in a brass quartet on the Ed Sullivan Show. He began doubling on flute in high school, going on to earn a B.S. degree in flute, and later an M.S. in trombone. His primary teachers have been Anthony Gorruso, John Wummer, Carmine Caruso, John Swallow, and John Rojak.

Since coming to New York, Dave has added the bass trombone, tuba, euphonium, and bass trumpet to his arsenal. Band of Bones is his fourth CD as a leader. Dave's other projects are the Hora Decima Brass Ensemble (www.horadecima.com, Summit Records) and the Afro-Caribbean group Direct Latin Influence (www.directlatininfluence.com, two self-produced CDs.)

Dave has played with Jaki Byard's Apollo Stompers, Dean Pratt, Mike Longo, Gary Morgan's Pan Americana, Bill Whited, and Sam Rivers. Best known for his work in the Latin field, Dave has performed and recorded with Tambo, Conjunto Melao, Wayne Gorbea, Cruz Control, Dave Santiago, the Mambo Legends Orchestra, and Direct Latin Influence (DLI.) Other performances with Tito Puente, Rafael Cortijo, Kako, Mon Rivera, the Lebron Brothers, and the Big 3 Palladium Orchestra. Dave toured with the National Company of Cats, and was the Latin band leader (with Direct Latin Influence) for six years at the prestigious Rainbow Room in Rockefeller Center.
---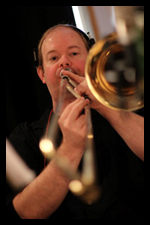 Trombonist Matthew McDonald has performed at numerous jazz festivals and conferences, including the Spoleto Festival, North Sea Jazz Festival, Montreaux Jazz Festival, Umbria Jazz Festival, Midwest Band and Orchestra Clinic, and IAJE. Since moving to New York in 2003, he has performed with many different ensembles including the Max Weinberg Big Band, Smoke Big Band, Birdland Big Band, Fat Cat Big Band, Lincoln Center Jazz Orchestra, and Ken Peplowski's Kingdom of Swing. In 2007, he was invited to perform with his own quartet in Manizales and Medellin, Colombia as one of the "Promising Artists of the 21st Century." He received his Bachelor of music at DePaul University in Chicago, his Masters of Music from the Manhattan School of Music, as well as receiving his Artist Diploma from the Juilliard School, studying with Wycliffe Gordon. He maintains a busy schedule as a sideman for many of New York's finest bands and ensembles.
---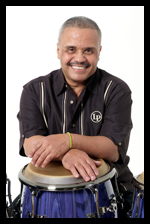 GRAMMY NOMINATED Percussionist Wilson "Chembo" Corniel studied music at The Harbor Conservatory for the Performing Arts in New York City, Pastore Music in New Jersey, and also attended La Escuela National de Arte (ENA) in Havana, Cuba in 1997 and 1999 under the direction of Chucho Valdez. Chembo is a member of the faculty at Purchase College and also teaches percussion privately. Chembo had the pleasure of working/touring and or recording with many artists such as Chucho Valdez, Larry Harlow, Tito Puente, Machito, Celia Cruz, Grady Tate, Toshiko Akiyoshi, Hilton Ruiz, Dave Valentin, Willie Colon, Angela Bofill, Steve Wilson, Ray Vega, Buddy Montogmery, Bob Baldwin, Chico Freeman and many more. Chembo now leads his own Latin Jazz quintet "Grupo Chaworo" since October 2001 and also started his record company "Chemboro Records, Inc." in 2004. Chembo Corniel has landed a nomination from the 52nd NARAS GRAMMY AWARDS for his latest cd "Things I Wanted To Do" for "BEST LATIN JAZZ ALBUM" 2009.
---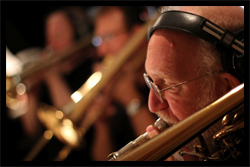 Dale Turk, bass trombonist, is a native of Cleveland where he earned a Bachelor of Music degree from Baldwin-Wallace College in Berea, Ohio. After college he played behind many name entertainers with the Front Row Theater Orchestra and occasionally filled in with the Cleveland Orchestra. After two tours with the American Wind Symphony Orchestra based in Pittsburgh, he moved to New York City, where his flexibility has enabled him to play with the Mostly Mozart Festival Orchestra, New York Pops Orchestra, and the Queens Symphony Orchestra, record with artists such as Ray Barretto and David Byrne, and tour with the shows Les Miserables and Nunsense as well as the bands of Lionel Hampton, Gerry Mulligan, and Larry Elgart. Big bands Dale played and recorded with are the Lew Anderson All-American Band, the Fitzko-Kinslow Big Band, the Howard Williams Jazz Orchestra, the Brooklyn Repertory Ensemble, and the Birdland Big Band.
---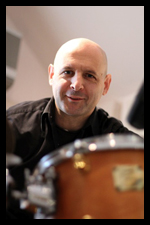 Mike Campenni is a native New Yorker. He began playing drums at a very young age and comes from a musical family. In high school he was selected for the all-state jazz ensemble. Some artists Mike has played with are Gil Coggins (former pianist with Miles Davis), Bob Mintzer, Ted Curson, Gordon Edwards and Stuff, Frank Wess, Houston Person and many others. He holds a degree from Manhattan School of Music and a masters degree in music education from Lehman College.
---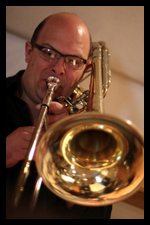 Bass trombonist Max Seigel has lived and worked in New York City since 2000. During that time, he has established himself as both a powerful soloist and a sought-after ensemble player. He has been featured by legendary trombonist Slide Hampton alongside Bob Brookmeyer, Benny Powell, Bill Watrous and Steve Davis as a member of the Trombone All Stars on stage at the Blue Note.
Max is a member of Roy Hargrove's Big Band, the Fat Cat Big Band, Justin Mullens' Delphian Jazz Orchestra, and the Andy Farber Jazz Orchestra. In addition, Max performs frequently with Wynton Marsalis and the Lincoln Center Jazz Orchestra, the Vanguard Jazz Orchestra, and the Mingus Big Band. He has also performed with Carla Bley, Bob Mintzer, Jon Faddis, and Toshiko Akyoshi at such venues as Birdland and the Iridium. Mr. Seigel is featured on Slide Hampton's "Spirit of the Horn" recording as well as appearing on recordings with Nancy Wilson, the Fresh Sound Jazz Orchestra, Frances, and Kendrick Oliver's New Life Jazz Orchestra.
---
Kenny Ascher bio
Born: Washington, D.C., raised in Atlanta

Education: Bachelor, Masters, and Doctoral degrees in composition from
Columbia University

Has been active in recordings and TV and Radio commercials.

Has recorded for/with (as keyboard player and/or arranger-orchestrator-conductor): John Lennon, Barbra Steisand, Paul Simon, James Taylor, Aretha Franklin, Gladys Knight and the Pips, Billy Joel, Paul Williams, Steve Lawrence and Eydie Gorme, Morgana King, Bette Midler, Woody Herman, Patti LaBelle, Johnny Hartman, Stephanie Mills, Dave Matthews, Marvin Stamm, Scott Whitfield, Jane Monheit, and many more.


With Paul Williams, Grammy nomination for Best Song of the Year ("You and Me Against The World")

With Paul Williams, wrote 5 songs for Streisand's A Star Is Born (Golden Globe Award)

With Paul Williams, wrote all the songs for The Muppet Movie. Nominated for two Academy Awards (Best Song Score and Best Song -"The Rainbow Connection")

Performances with Woody Herman, The Thad Jones- Mel Lewis Jazz Orchestra, Steve Lawrence and Eydie Gorme, Zoot Sims, Ruby Braff, Maxine Sullivan, Jimmy Rushing, Anita O'Day, to name a few.

Songs recorded by : Johnny Mathis, Barbra Streisand, Frankie Valli, Gladys Knight and the Pips, Jerry Butler, Jack Jones, Carmen McRae, Judy Collins, Paul Williams, Ben Vereen, The Muppets, Helen Reddy, Lena Horne, Cleo Laine, Teddy Pendergrass, Willie Nelson, The Moments, Matt Monro, among others.
---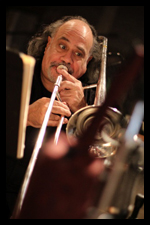 Born and raised in NYC, Charley Gordon has performed and recorded in a list of musical settings ranging from pop (Stevie Wonder, Joe Jackson, Blood, Sweat & Tears, Shakira, Marc Anthony) to jazz (Toshiko Akiyoshi Orchestra, Gil Evans, Vanguard Jazz Orchestra, The Mingus Jazz Orchestra, Andrew Hill, and Maria Schneider's Orchestra).
Charley is an active member of the Ed Palermo Big Band and Howard Williams Big Band among others.
---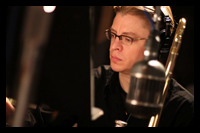 Nate Mayland hails from Madison, Wisconsin and grew up outside of Chicago in a home full of the sounds of big band, blues, choirs and orchestras. He was fortunate to have studied with legendary Edward Kleinhammer, who became his most influential mentor.
He is a 1999 graduate of Indiana University where he studied under M. Dee Stewart, Scott Hartman and David Baker. He attended the inaugural season of the Henry Mancini Institute where he performed excerpts from the Henri Tomasi Concerto for Trombone live on the radio with full orchestra.
After moving to New York in 2001 Nathan has slowly built a reputation as a creative and solid musician, performing all styles of music with passion and authenticity. His recent career includes work with Harry Connick, Jr., Southside Johnny and The Asbury Jukes, Bernadette Peters, Josh Groban, Eddy Santiago, Johnny Mathis and many others. He has also performed with The Birdland Big Band, The Latin Giants of Jazz, The Chico O'Farrill Orchestra, and several Broadway shows, including Lincoln Center Theatre's "South Pacific" where he happily held the chair of tenor and bass trombonist.
Please learn more by visiting Nate's website, where you can see and hear his playing!
http://www.natemayland.com
---
Sara Jacovino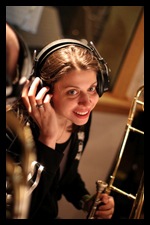 ---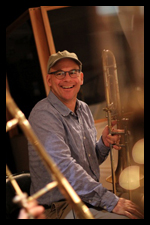 Mark Patterson
---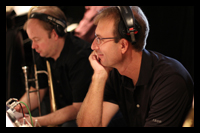 Chris Rinaman is a freelance trombonist in the NYC area whose work encompasses jazz, rock, Broadway, and classical performances.
He toured with the legendary Artie Shaw Orchestra as lead and solo trombonist, and performed all over the US and Canada with the National Companies of "In the Heights" and "Memphis".
He attended the University of North Florida and the Manhattan School of Music.
Chris enjoys a second career as a composer and arranger (Band of Bones has played many of his excellent arrangements and transcriptions.)
He has written scores for vocalists Deana Martin, Michael Castaldo, Giada Valenti, and Stephen Maglio,
as well as commercials for Western Union and Staybridge Suites, and the theme music for the travel series "Let's Vacation" on PAX-TV.
---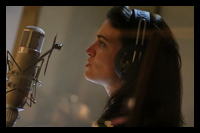 Vocalist Kat Gang hails from Boston, MA, and she began her musical training at the renowned Berklee College of Music while still in her teens.
She fell in love with the energy of NYC, and went on to earn her BFA from NYU.
Kat moved to London and spent seven years singing all over Europe and studying at the Royal Academy in London.
Her versatility and wide vocal range have been heard at Birdland, 54 Below, The Metropolitan Room, Iridium, and every Wednesday at the prestigious Plaza Hotel.
Kat has performed twice at the GRAMMYS, has acted in various feature length independent films, and continues to explore the depth of Jazz fusion and improvisation with her extraordinary ear and voice.
The Wishbone Project is a collaboration with trombonist Nate Mayland, and none other than Jonathan Schwartz has said, "Kat Gang is an excellent singer. She moves people."
Dave first heard her when she sat in with his Latin group DLI at the Edison Ballroom. After hearing just one tune, a samba that she sang in Portuguese, he asked her to join Band of Bones. (And she said YES!)
---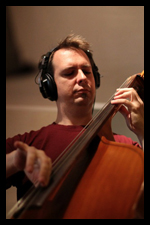 Born in Peoria, IL, Jerry DeVore played several instruments (including trombone!) before finally settling in on bass. He gigged locally, and after graduation from Bradley University won an audition with the United States Air Force Band, with whom he toured for over four years. He later worked with Dove Award winning artist Richard Smallwood's Gospel Choir,
and various R & B and jazz groups before coming to NYC where he earned a Masters in Jazz Studies at NYU.
Jerry has performed with Curtis Fuller, Wynton Marsalis, Kenny Werner, Randy Brecker, Gladys Knight, and Lenny Pickett (to name a few.)
Jerry works as a freelancer in New York, and he and Dave perform with the Buddy Rich Killer Force Reunion Band.
---
These members appeared on the first Band of Bones CD:
---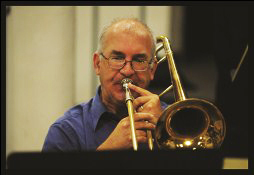 Bruce Eidem, originally from Fargo North Dakota, has enjoyed a varied musical career having performed or recorded with the American Symphony Orchestra, the N.Y.C. Opera Orchestra, Buddy Rich Big Band, Mario Bauza's Afro-Cuban Jazz Orchestra, Frank Sinatra, Paul McCartney, Phil Collins, and Wayne Shorter.
He has played for over 60 different Broadway shows, recorded for many movie
soundtracks, tv/radio jingles and appeared on hundreds of recordings. Eidem has educated and inspired students, ranging in age from 4-80 years old, for 40 years.
Bruce is thrilled to be part of "Band of Bones".
---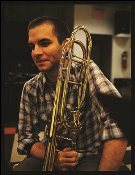 Principal trombonist of the Huntsville Symphony Orchestra since 2008, Mike Lormand is also a member of the Reading (PA) Symphony Orchestra. He performs with the Charleston Symphony Orchestra, Delaware Symphony Orchestra, New York City Opera and Pennsylvania Ballet. As a soloist, Mike was featured with the Mississippi Symphony Orchestra and appeared in recital at both the International Trombone Festival and the Eastern Trombone Workshop. His contemporary and chamber music experience includes performances with Alarm Will Sound, Ensemble Pamplemousse, Ikarus Chamber Players, International Contemporary Ensemble, Manhattan Brass, Manhattan Sinfonietta, and Philadelphia Big Brass. Commercially, Mike records for television, film and video games and toured the U.S. and Europe with the musicals Kiss Me Kate and Hair.
A graduate of the University of Southern Mississippi (BM) and Manhattan School of Music (MM), Mike owes a large debt of gratitude to his teachers: Robert Schmalz, Marta Hofacre, Per Brevig, and David Taylor. A native of Rayne, Louisiana, Mike resides in Brooklyn with his wife Sasha and their pups Squid and Willie.
---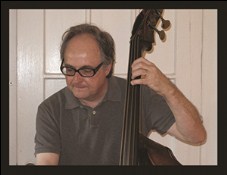 Dick Sarpola was raised in Seaside Oregon He has an extensive background in recording and performing with such Jazz notables as George Shearing, Mel Torme, Susannah McCorkle, Peggy Lee, Chris Connor, Marian McPartland, Fred Hersch , John Fedchock, Howard Alden, and many others . His studio experience includes work with such diverse artists as: Lenny Kravitz, Wyclef Jean, Sting, Celine Dion, Nellie McKay, Judy Collins, Rufus Wainwright and nearly 100 Major Films.
He toured internationally with Liza Minnelli for more than 9 years and performed with Sammy Davis Jr. and Frank Sinatra. Mr. Sarpola has had the pleasure of working with Tony Bennett, Michael Feinstein, Barbara Cook, Maureen McGovern, Rebecca Luker Karen Akers, and Charles Aznavour. Throughout his career he has played at numerous jazz and pop festivals around the world including The Newport, JVC and Kool Jazz Fests.